SPARK has transformational impact on Liverpool's clinical research community
Despite operating for less than a year, we're proud to report on some incredible results The Single Point of Access for Research and Knowledge (SPARK) has produced. SPARK's crucial role in coordinating clinical trials and research projects has already been seen to have a positive impact on improving health outcomes across Cheshire and Merseyside. The results we can now share with you are a reflection of everybody's hard work throughout the last year. We can also share insights on how SPARK has responded to COVID-19, enabling ground-breaking research to happen during an unprecedented time.
What is LHP SPARK?
The LHP SPARK is a collaboration across four universities, seven NHS Trusts and one CCG that delivers high-quality research governance, costing, contracting and set-up of clinical trials and research projects. SPARK acts as a catalyst for change, enabling high-quality, world-class research to happen quicker.
How SPARK has helped to coordinate, support and encourage collaboration in the clinical research community
Clinical research activities have always played a significant role when it comes to improving population health outcomes. However, before SPARK was implemented, setting up clinical research studies were challenging to research teams with limited access to resources, funding and capacity. Those who have tried to submit grant applications, identify sponsorship and obtain costs will know the process can be burdensome and bureaucratic.
Since September 2019, SPARK has been able to act as a dedicated, streamlined, centralised system to support the region's investigators. By working in collaboration with SPARK, teams can now improve study set-up times and increase the volume and quality of grant applications and fellowships.
SPARK is made up of a team of 31 collaborative, hard-working experts and specialists. It's their job to make SPARK's vision a reality through the coordinated use of several systems to deliver a 'one-stop-shop' for researchers, funders and project sponsors:
The LHP SPARK Quality Management System

. This establishes single processes for grants, costings, study registration, study set-up, contracting, confirmation of capacity and capability and study amendments.

The LHP SPARK EDGE system

. This tracks study activity in real-time providing a live dashboard for the SPARK team to use collaboratively with LHP member organisations.

A Single Sponsorship Application Process for LHP

. This is consistent information for investigators to complete and create a standardised approach to review.

The LHP SPARK Governance Structure

. This is a single governance structure for management and performance for teams to support grants & fellowships as well as governance and contracts. This work is centred around four activity pillars; Medicine & Surgery, Cancer, Speciality and Primary Care.
A tested and proven approach for success
To help demonstrate the transformative impact of SPARK's processes on clinical trials and research projects, we wanted to share an overview of the SPARK process.
Using this successful process, we can see the direct impact it has had on grant applications being submitted (*as of 16/06/2020) –

SPARK's impact on life-changing research
Since SPARK's inception in September 2019, there has been a marked decrease in clinical research study set-up times. The Head of SPARK, Dr. Seema Chauhan, attributes this reduction in set-up times to "effective communication and the implementation of single processes across the board between Partners and SPARK."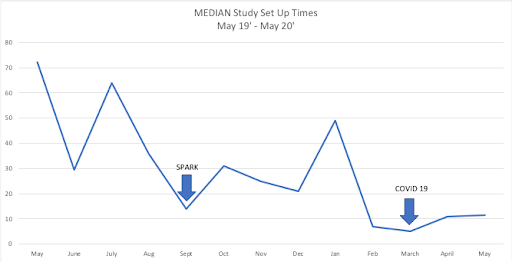 SPARK and COVID-19
SPARK has been highly responsive to the global pandemic we find ourselves in. Global clinical trials and research projects have been rapidly set up to help inform best practice approaches for the management of people with suspected or confirmed COVID-19. SPARK's 'one-stop-shop' approach has enabled researchers to quickly and effectively secure funding and set up COVID-19 clinical research studies in an expedited manner.
SPARK activities underpin the STrategic One Liverpool Partnership for COVID (Liverpool STOP COVID) where, at a system level, LHP has acted rapidly and at scale to streamline processes to strategically assess, approve and direct COVID-19 research across LHP partner organisations. SPARK has also assisted research teams in the submission of 21 COVID-19 related grant applications since April 2020 and is working on a further eight COVID-19 specific applications which are due to be submitted this month.

Setting up new studies and excelling in recruitment
SPARK's partner organisations are at the forefront in supporting researchers in actively recruiting to a growing portfolio of COVID-19 studies across primary, secondary and specialist care settings –

As efforts continue within the research community, there are a further 25 COVID-19 clinical research studies currently being set-up.
Reflecting on the SPARK and LHP COVID-19 pivot Dr Rachel Joynes, Director of Research Infrastructure and Education says:
"In this rapidly changing landscape, LHP has risen to the challenge, acting quickly, decisively and collaboratively to balance research, expertise and patient need. Our partners have demonstrated a willingness to manage collective resources to prioritise research most likely to benefit our residents and healthcare workers. This would not have been possible without LHP SPARK and the commitment of our NHS Trusts and academic members. Moving forward, as we continue to address the COVID-19 challenge and take steps towards rest and recovery, we have an excellent opportunity to continue to build our collaborative research leadership approaches with our Partners"
Find out more about SPARK and its impact
This gives you a brief insight into the work SPARK has been carrying out over the last year and during COVID-19. To find out more about SPARK's impact and the role it plays in supporting research across Merseyside and Cheshire, take a look at our dedicated SPARK page. Or, if you're interested in hearing more about SPARK please contact enquiries@lhpspark.nhs.uk.